Fibracolour TEX EZ allows to enrich the material and sensory characteristics of any interior space through a varied range of embossed surfaces.
The different textures in linear, geometric or fantasie shapes, offer great versatility, to adapt to spaces or decorative applications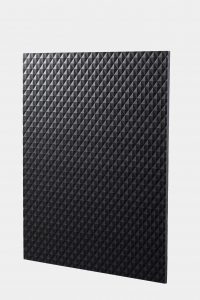 The technology used in the reproduction of reliefs on the surface of the board offers a compact surface, ideal for the application of different
types of varnishing or lacquering with countless effects and colors (RAL, NCS, PANTONE, etc. ).
The texture is only supplied on the top face.
Each of the textures available on FIBRACOLOUR EZ offers its own uniqueness with numerous possibilities.
In addition to the consequent savings in surface and time machining processes to opt for similar results.
All boards synchronize texture reproduction across the entire surface, making cutting, machining or paneling easier in different
Applications.
Fibracolour EZ TEX is an ideal product to be used in different applications:
Ephemeral architecture
Stands and supports
Exhibition
Interior
Paneled, screens
and cladding
Furniture
Home furniture, auxiliary
and children
Warehouses
Counters and exhibitors
Technical solutions
Molds, bas-relief effects
and product design
Design
Decorative solutions in
shops, hotels, etc.
COATING AND FINISHING