TITAN heavy duty
As big as a fixed glazing: window with TITAN heavy duty.
The TITAN heavy duty view hinge gives the necessary lightness to heavy wood or wood-aluminium blades. And this is already noticeable during assembly: with the frame bottom hinge bolt with practicable opening brake you can hang the blade more easily, inserting the pin of the top frame hinge is possible in any position of the blade and adjustment lateral and height is no problem, even at high weights.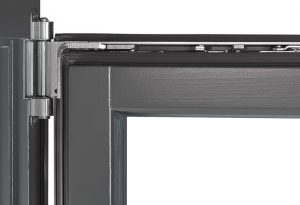 large window formats with an elegant hinge design
for wooden or wood-aluminium windows with leaf width up to 1.80 m and height of 3 m
reliable load capacity: oscillo-swing blade up to 200 kg and practicable blade up to 300 kg
combination of wear-resistant cast steel with special surface treatment
Innovative ball bearing for high and long-lasting comfort of use
milling in the frame the same as those of standard windows
without thermal bridges thanks to the perimeter joint
Efficiency with an elegance that gives wings: titan wood view hinge.
only one variant for all sheet weights up to 150 kg: identical minimum space needed in the frame, no additional parts
fast and efficient production thanks to the optimized double-pan contour
possibility of loose bar machining, symmetrical milling and screwing pattern
easily hang in any opening position using the polygonal pin of the top frame hinge, with built-in practicable opening brake
Slender and modern design: flush with the upper and lower wing, all hidden screws, possibility to use lids and lacquers
wear-resistant PVC support and anti-efraction protection in the folding position
reduction of thermal bridges: double pot with diameter of 30 mm